5030 Light Duty Tripod 31"- 51" (79-131 cm)
Overview
Ships in 4 Weeks
Lightweight, easily disassembled stand
The
5030 
stand provides a rigid support for various measuring instruments. Triangular bracing of the legs enhances stability. The legs are removable and the telescoping lower leg sections retract for compact storage and easy transport.
The stand height is adjustable from 31 in to 51½ in (78.7 cm - 131 cm) using the center column and telescoping legs. A spoked handwheel below the instrument mount permits fine height adjustment of the center column within a range of 3" (7.6 cm). A positive hand clamp gives extra assurance against accidental height changes. The swivel head at the top can be rotated through 360° and locked in any position. A standard 3½"-8 thread allows attachment of various adapters or instruments. The column and swivel head are hollow, providing a 1 1/8" diameter clear aperture for downward sighting. A removable plastic cap protects the mounting ring when the stand is not in use.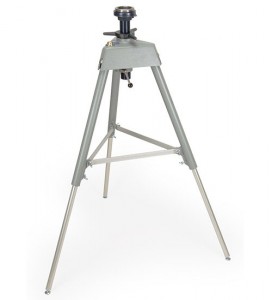 The telescoping legs are attached securely and quickly using attachment screws which seat in a slot in the triangular shoulder unit. The upper portion of the legs are made of aluminum tubing; the lower legs have a stainless steel insert to prevent fretting and wear. 
 Swivel pad feet on the lower legs facilitate setup on hard surfaces. The swivel pad feet can be removed and replaced with stainless steel points which are also furnished with stand.
For a very short version of this stand, see our 5035. Or, if you already have a 5030 stand and want to convert it to a 5035, you can do it with our 5037 Short Leg Kit (shown below). This kit consists of three short legs, trivet points, and required mounting hardware. Simply remove the standard legs from the 5030 and bolt the new ones on, transforming the 5030 into a miniature stand. The stand height is adjustable from 13 in - 16 in (33 cm "€œ 40.6 cm) using the center column.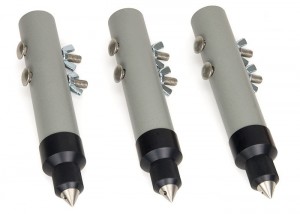 The 5030 breaks down for easy storage and transport.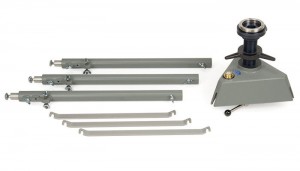 May Be Used With
Accepts any product having an internal 3½"-8 thread
Many of our instrument adapters
Specifications

| | |
| --- | --- |
| Min Height mm | 31 |
| Max Height mm | 51.5 |
| Max Height (mm) | 1310 |
| Min Bore Diameter | 787 |
| Weight, Product (Approx.) lb | 28 |
| Weight, Product (Approx.) kg | 13.2 |