270BN Universal Short Range Calibrator
Overview
Ships in 4 Weeks
Take care of your optical instrument calibration requirements in-house with the 270BN Universal Short Range Calibrator. This compact, self-contained unit lets you easily calibrate all kinds of optical and electronic theodolites, autolevels, total stations, optical tooling instruments and accessories with complete NIST certification capability.
The 270BN features an efficient, compact design that places all controls within easy reach and all components strategically positioned for efficient operation. The 270BN will accommodate all types of optical instruments and features positive indexing of angles with one quarter arcsecond accuracy. A 4" thick granite surface plate and heavy gage, enclosed steel cabinet provide excellent stability.
Unit can be modified per client specifications. 
Features
Allows evaluation of opto-mechanical system geometry
Complete auto-collimation capability for ultimate accuracy
One-degree azimuth indexing with one quarter arcsecond accuracy
Provides for all necessary instrument translations and rotations in X, Y and Z axes
Adjustment of coincidence-type vials, vertical circle index settings, and automatic levels using a gravity-referenced mirror
Calibrations
The following is a partial list of the instrument calibrations which may be conducted with the 270BN:
Bearing runout, horizontal and vertical
Collimation, horizontal and vertical
Optical/mechanical axis centering
Line-of-sight straightness
Line-of-sight concentricity
Plumbline/trunnion axis
Cross-scope collimation
Level vials Optical micrometer
Infinity focus
Auto-reflection target position
Compensator adjustment
Level referenced at infinity
Optical plummet
Angular accuracy
Reticle rotation
Included Components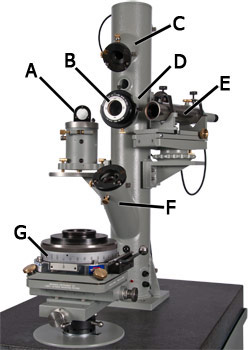 A: 287-1 Leveling Mirror
B
: 390 Optical Wedge
C
: 11196-G2 Optical Plummet Collimator
D
: 272-15 Multiple Target (line-of-sight) Collimator
E
: 2062 Alignment Telescope
F
: 272-1 Infinity Collimator
G
: 13202 Ultradex Table, ¼ arcsecond accuracy
(also included):
 (1) Micrometer Calibration Target
(1) 187-S Stride Level
(1) Auto Collimating Mirror
(1) 235-5 Theodolite Adapter
(2) 88-6 Tilt mounting base
(1) 802-3 Compound precision slide
(1) 800 Precision lift
(1) Operating manual
Specifications

| | |
| --- | --- |
| Finish | Grey |
| Height in | 72 |
| Height mm | 1829 |
| Table Height in | 37.5 |
| Table Height mm | 953 |
| Weight, Product (Approx.) lb | 1100 |
| Weight, Product (Approx.) kg | 499 |
| Weight, Shipping (Approx.) lb | 1261 |
| Weight, Shipping (Approx.) kg | 572 |