12410 Series Concave Tips
SKU
12410 Series Concave Tips
Overview
Ships in 2 Weeks
Tips for Brunson Invar System that fit on tooling balls
The 12410 Concave Series of tips are designed to work with the Brunson Invar System. On one end, a 3/8"-24 external thread mates to our standard Invar system tubing. The other end provides a concave mount that is made to fit on a 1/2" tooling ball, while holding the effective length to a precisely known standard (see drawing and table below). The concave tips allow you to take measurements from tooling ball fiducials permanently mounted on fixtures, and perform "leapfrogging" measurements using a tooling ball placed temporarily between points of measurement or alignment interest.

The 12410 series comes in both English and metric units - see the table below for the effective lengths of each.
| | |
| --- | --- |
| Model | Effective Length* |
| 12410-G2 | 1" ±0.0003" |
| 12410-G3 | 2" ±0.0003" |
| 12410-G5 | 25 mm ±0.008 mm |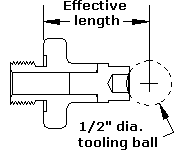 *Effective Length is the distance from the bottom interface surface of the scale holder, which mates with the end of the Invar Tubing, to the center of a 1/2" tooling ball when cradling the ball with the tip's concave surface.
May Be Used With
Any of our Invar System tubing
Specifications

| | |
| --- | --- |
| Material | Stainless Steel |
| Thread | 3/8"-24 |