Individual Invar Tubing & Custom Lengths
SKU
Individual Invar Tubes & Custom Lengths
Overview
Ships in 2 Weeks
Build your own custom kit
We can easily create flexible solutions for you. You can choose any combination of tubing lengths from our Invar series, or tell us the custom lengths that you'd like to have.
Our Invar tubing series includes the 12473 Series (Extension grade), the 12409 Series (Standard grade), or the 12587 Series (Calibration grade). The grades indicate the tubing length tolerance held. These items are exactly the same as we use in our standard kits. All have the advantage of Invar alloy, which maintains a much more constant length over varying temperatures than almost any other metal.
Or, if you don't see what you want in our standard lengths of Invar System tubing, let our factory fabricate exactly what you need. You tell us the length and the tolerance, and we'll tell you if we can do it.
Our Invar tubing is 1" diameter, with short stainless steel plugs inserted permanently in each end. These plugs have internal threads (3/8"-24) and accommodate any of our Invar System components.
The bars come in both metric and English units, with your choice of three different length tolerances in each unit system.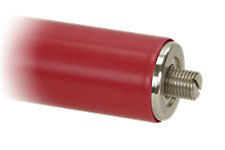 All of our tubes are permanently wrapped with a tough, stain-resistant PVC jacket. For easy identification by our customers who have both, our English Invar tubes have a red PVC jacket, and our metric tubes have a yellow jacket. (Note: All of the 12473 "extension grade" bars are wrapped with black PVC, regardless of whether they are English or metric.)
The 12473 Series are the same items found in our "extension grade" Invar kits, and are manufactured to a tolerance of ±0.050" or ±1.27 mm. These are used for simple scale extensions or other applications where a stable bar length is more important than a precisely known length.
The 12409 Series are the same items found in our "standard" Invar kits, and are manufactured to our standard tolerances (±0.0003" or ±0.008 mm).
The 12587 Series are the same items found in our "calibration" Invar kits, and are manufactured to a tighter length tolerance specification (±0.0001" or ±0.003 mm). In addition, the 12587 Series bars come with a NIST traceable certification specifying their exact length, to the closest 0.0001" or 0.003 mm.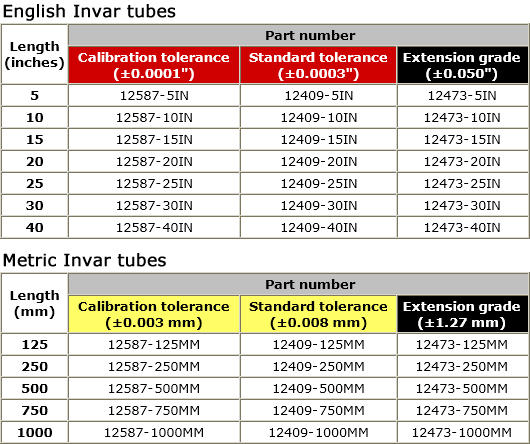 Specifications

| | |
| --- | --- |
| Diameter in | 1 |
| Diameter mm | 25.4 |
| Finish | Oil and stain resistant PVC jacket, available in various colors |