810 Heavy Duty Stand 2"- 55" (5-141 cm)
Overview
Ships in 10 Weeks
Flexible Use, Heavy Duty Portable Stand Kit
Our
810
is a heavy duty portable stand which may be assembled by the user into a variety of configurations. It consists of a number of components which give you the flexibility to "build" the stand to the specification of any job which calls for portable or unique setups. It is relatively lightweight and disassembles for mobility, yet is extremely rigid while being used. Various combinations of the 810's components allow instrument mounting heights of
2" to 55½" (5 - 141 cm)
from the floor. The stand allows you to make precision vertical and horizontal adjustments to solve a multitude of instrument location problems. [In case you're scratching your head, an instrument height of 2" is possible by installing the instrument mount tube - and the instrument - upside down between the legs of the stand.]
The 810 comes with a set of short legs, a set of long legs, and a set of trivet points that may be mounted directly in the three sockets on the tribrach plate, for setting the stand almost directly on the floor or other work surface. Both point and pad feet are interchangeable with the short and long legs. It is also supplied with a short and long intermediate tube. The photo above (upper left) shows the stand with the long legs and long intermediate tube; the photo below (lower left) shows the stand with the short legs and short intermediate tube.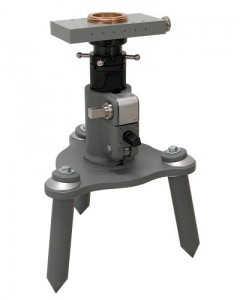 At left, the 810 stand assembled is with the short instrument mount tube and the short legs.
The 810 comes in a sturdy polyethylene case with foam inserts to hold all parts securely, shown below.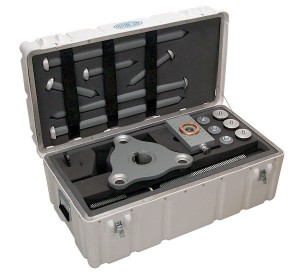 A number of our stand adapters, slides, lifts, and various instrument mounts fit on the stand. Almost anything will fit on it because it is equipped not only with the 3½"-8 standard external instrument mount threads, but also our dovetail receptacle and the 2.825"-20 internal thread found on many of our intermediate tubes. For a trimmed down version of this stand, have a look at our 801-1.
Standard Components Included
| | | | |
| --- | --- | --- | --- |
| Qty | Description | Qty | Description |
| 1 | 802 precision cross slide | 3 | 10" (25.4 cm) tubular aluminum legs with steel tips and pivot mounts |
| 1 | 800 precision lift | 1 | Rugged high-density polyethylene case with foam inserts for storage or shipping complete kit. |
| 1 | Hard-anodized aluminum instrument mount (intermediate) tube, 21" (53.3 cm) | 1 | Cast aluminum tribrach and collar with worm gear height adjustment |
| 1 | Hard-anodized aluminum instrument mount (intermediate) tube, 10½" (26.7 cm) | 1 | Wrench set |
| 3 | 1" (2.5 cm) trivet point legs with pivot mounts | 3 | Interchangeable point feet |
| 3 | 26" (66 cm) tubular aluminum legs with steel tips and pivot mounts | 3 | Interchangeable pad feet |
May Be Used With
Any product having an internal 3½"-8 thread
Many of our stand accessories and instrument adapters
Finish:
Machine gray
Approx. weight:
Stand (all components, together with case), 92 lbs. (41.7 kg)
Shipping, 95 lbs. (43.1 kg)
German (PDF)
Specifications

| | |
| --- | --- |
| Finish | Machine Grey |
| Min Height mm | 2 |
| Max Height mm | 55.5 |
| Max Height (mm) | 1410 |
| Min Bore Diameter | 51 |
| Weight, Product & Case (Approx.) lb | 92 |
| Weight, Product & Case (Approx.) kg | 41.7 |
| Weight, Shipping (Approx.) lb | 95 |
| Weight, Shipping (Approx.) kg | 43.1 |